4 tools to improve your international SEO
If you have a multi-language website, you will already be aware of the importance of optimising your international SEO. There are various specialised tools available that provide details of your SEO positioning and that of your competitors. Do you know which are the most popular tools? Take note!
SEMrush:
This is one of the most widely-used inbound marketing tools. It permits you to track the effectiveness of your international SEO strategy, improve the positioning of your website and gain more traffic. It offers a free version with limited functionalities but enough to allow you to track the success of your SEO strategy. What data can be obtained?
SEO Analysis: it shows the monthly organic traffic forecast for the Google search engine, the number of keywords from which the traffic proceeds and the cost of the word in AdWords. The platform also ranks the positioning of the website compared to that of the competition.
Keywords: the platform allows you to search for keywords and know their volume, their cost in Google AdWords and their trends. It also offers keyword suggestions that will help you to define your long tail strategy.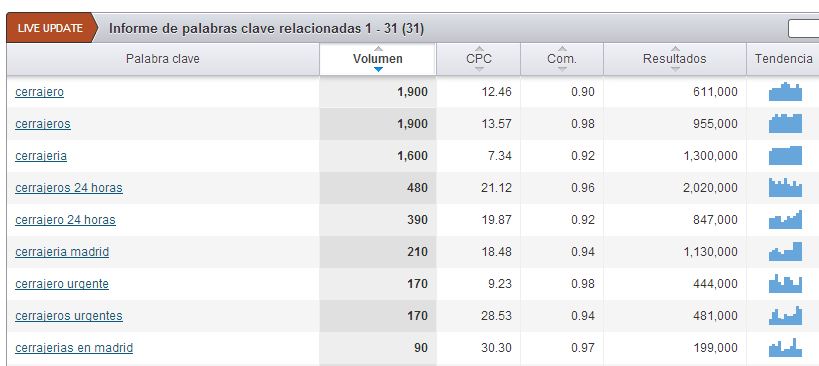 Backlinks: in this section you will find the backlinks of the analysed website.
Competency analysis: the tool provides many relevant details, such as, for example, the websites it considers to be your main competitors, those with which you share more keywords. It also provides a list of all the keywords used by each of these competitors to improve their site's ranking.
All this information can be filtered by countries. SEMrush provides information from up to 27 countries.
Positionly:
Another tool on the market designed to track your position is Positionly. There is a 14-day free version which then becomes a paid version. Prices are proportional to the number of tracked keywords. What data does it offer?
Keywords: it offers data on the ranking of each keyword and a chart with the evolution of these words over a period of time. You can add different search engines (Google, Bing, Yahoo, etc.) to see your ranking in each of these.
Competency analysis: for each website, it allows you to add your competitors to compare their ranking with the selected keywords. This can be done manually or through the list of keywords provided by the tool.
Postitionly allows you to choose the country where you want to track your keyword ranking.
Woorank:
This tool helps you to determine whether you are following the right strategy with regards to SEO and website design. The biggest difference between this tool and the other two is that it does not show data from competitors. What information can we get?
SEO Analysis: the tool checks to see if your URL is search engine friendly or if you have duplicate content. It also carries out a study of the H1, H2, H3 and the Alt attributes of images.
Traffic: it shows the estimated traffic data of the website based on the popular Alexa ranking.
Social networks: you will receive a report on the RTs, "likes" and other data regarding social network interaction.
It offers a free version that allows you to make an SEO report every seven days.
Majestic:
This tool analyses the off-page SEO and displays a chart showing the evolution of different values:
Backlinks: you can receive more information on five domains simultaneously. You will receive a more detailed report if you register and verify the website.
Referring domains: this provides information on subdomains, links, images, URL forwarding, etc.
Keywords: you can find out the volume of each keyword and how often it appears on your website. The difference compared to the other tools is that it does not show paid search data, only organic data. In the free version you can make a search of up to 50 keywords.
It is a very useful tool for discovering websites that link to websites/blogs of the competition, more specifically at an international level, as they show a geographical map with the location of the incoming links to your website.
These are some of the tools available for optimising your international SEO. First, however, your website should be carefully reviewed and correctly edited and translated. And, remember to hire a professional translation service with experience in this area.
We are sorry this article has not been helpful to you…
We'll try to do better!
Tell us how we can improve this article